Sustainable sonic toothbrush
Regular price

Sale price

89,90 €
---
High-tech meets sustainable design.
Effective sonic technology for bright and healthy teeth

Biodegradable bamboo brush heads
8 weeks brushing without charging
---
---
Lebenslanger Garantieschutz im Abo:
Mehr erfahren
Auf Lager - in nur 2-4 Tagen bei dir
Kostenloser Versand
Kostenlose Retouren
Versand mit DHL GOGREEN
30 Tage Geld-Zurück-Garantie
Vorteile vom bamtoo Recharge Abo
Schütze deine neue Schallzahnbürste und trage zum Umweltschutz bei.
Lebenslanger Garantieschutz im Abo
Sorgenfreier Austausch bei Defekt - sofort und kostenlos
Auch bei schwachem Akku & unabsichtlichen Schäden
Reparatur, Akkuaustausch und fachgerechtes Recycling statt Müllkippe
Priorisierter Kundenservice
Monatlich kündbar, ohne lange Vertragslaufzeiten
Herbst-Angebot einlösen

Zeit für eine neue Jahreszeit. Zeit für neue Angebote.

So erhältst du 3 zusätzliche Bambus Bürstenköpfe kostenfrei zur KOA V2:


1. Füge die KOA V2 Schallzahnbürste zum Warenkorb hinzu.
2. Füge ein 3er-Pack der bamtoo Aufsätze hinzu.


Der Rabatt wird jetzt an der Kasse abgezogen. Das Angebot gilt nur für kurze Zeit.
Why choose KOA V2?

We believe that sustainability should be easy to integrate into everyday life.

Our approach is a sustainable toothbrush that offers dental-tested cleanliness through a powerful sonic motor and bamboo attachments.

Packaged in a recyclable case, which unlike other vendors allows for repairs and even battery replacement.

Unconvinced? Try KOA V2 for 30 days.

Dental tested and recommended

Attachments made from renewable raw materials

Repairable design

8+ week battery life

5 effective brushing modes

Fast charging concept
scope of delivery

Set of 1: Sonic Toothbrush KOA V2 | 2x bamboo brush head | USB C charging cable | Bamboo travel case

Set of 2: 2x sonic toothbrush KOA V2 | 4x bamboo brush head | 2x USB C charging cable | 2x bamboo travel case
Frequently Asked Questions

What is the difference between an electric toothbrush with sound and what are the advantages?

Unlike traditional rotating toothbrushes, where the brush head spins, a sonic toothbrush creates rapid side-to-side vibrations, or back-and-forth motions. These movements create sound waves that direct the resulting foaming toothpaste and cleaning effect deeper into the interdental spaces.

Due to the effective, simple but at the same time gentle application, an electric toothbrush is also suitable for sensitive gums or people who are lazy about cleaning.

Are the brush heads compostable?

The brush heads for KOA V2 are made from renewable raw materials and are also biodegradable. However, they are not compostable, as this describes a different process. It is best to find out more from your local authorities before disposing of them in the garbage, as the requirements differ from municipality to municipality.

How can I replace the battery?

With the bamtoo Recharge subscription, you are entitled to the free replacement service. Learn more about it and the many other benefits here .
Known from




So viele Zahnbürsten landen jährlich auf Müllkippen oder im Ozean. Aber nicht diese hier.
Abbaubare Bürstenköpfe

FSC-Bambus, Bio-Kunststoff und Rizinusöl.

Wechselbare Batterie

Wir können den Akku deiner Zahnbürste wechseln.

Recyclebares Gehäuse

Leicht wiederzuverwerten und auszutauschen.

Schnelles Aufladen

Dank ressourcen-sparendem USB-C Ladekonzept.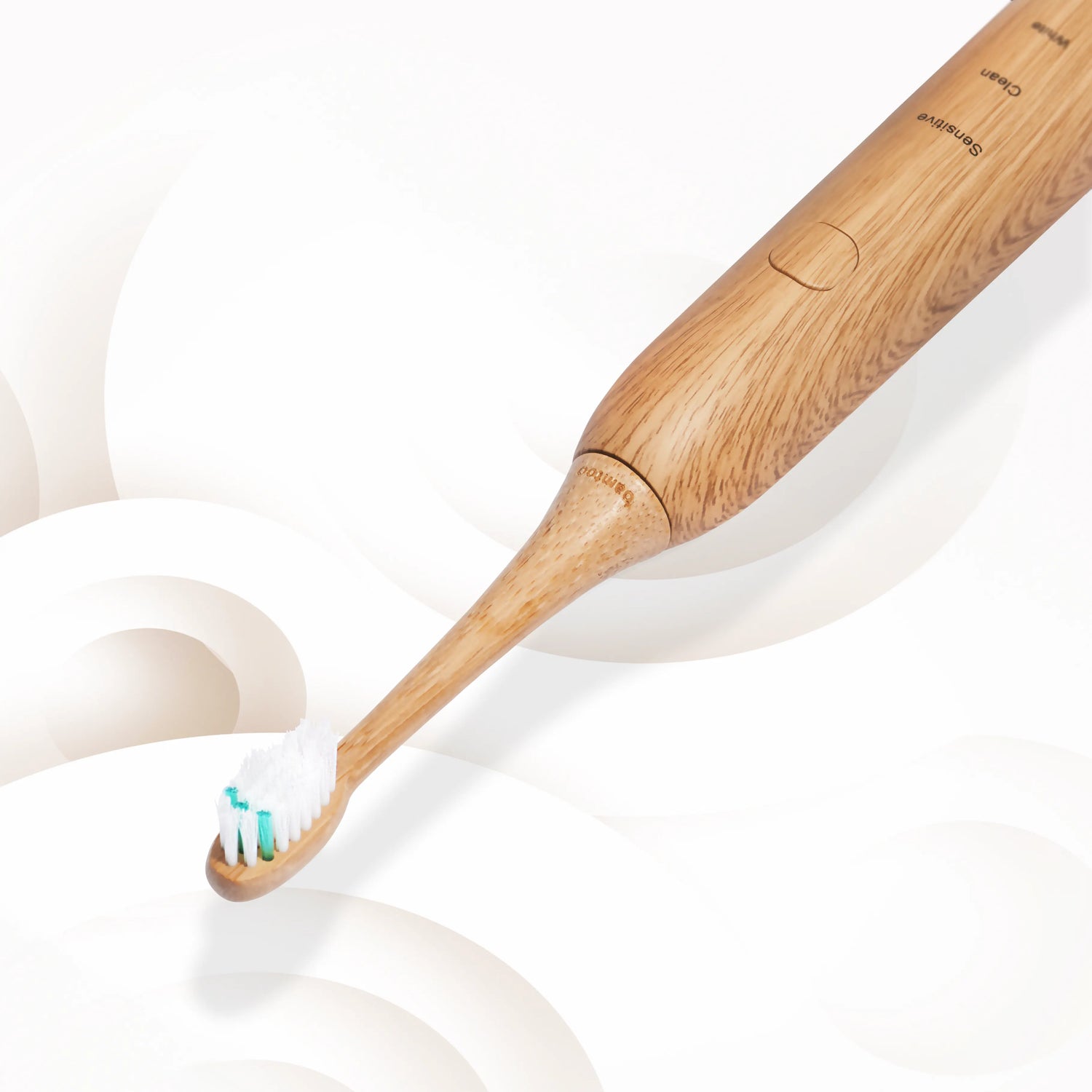 Why sound?
Clinical studies prove the benefits of sonic toothbrushes. Up to 40,000 vibrations cause the toothpaste to foam and not only clean teeth, but also the spaces between the teeth.
Sustainable Bamboo
Plastic attachments were yesterday. We rely on biodegradable bamboo and bio-plastic, as well as DuPont™ bristles made from castor oil. You hate wood taste? The high-quality processed surface leaves a pleasantly hygienic feeling in the mouth. Your last toothbrush
Get a lifetime warranty on your KOA V2 with bamtoo Recharge.
Immediate free exchange
Repair instead of garbage can
Including battery change

You can cancel at any time via your exclusive customer service.
More on this
Travel more elegantly
You've never had a travel case like this before. Made from solid but lightweight bamboo and with room for 2 extra attachments. The travel case is practical when traveling and an absolute eye-catcher in the bathroom.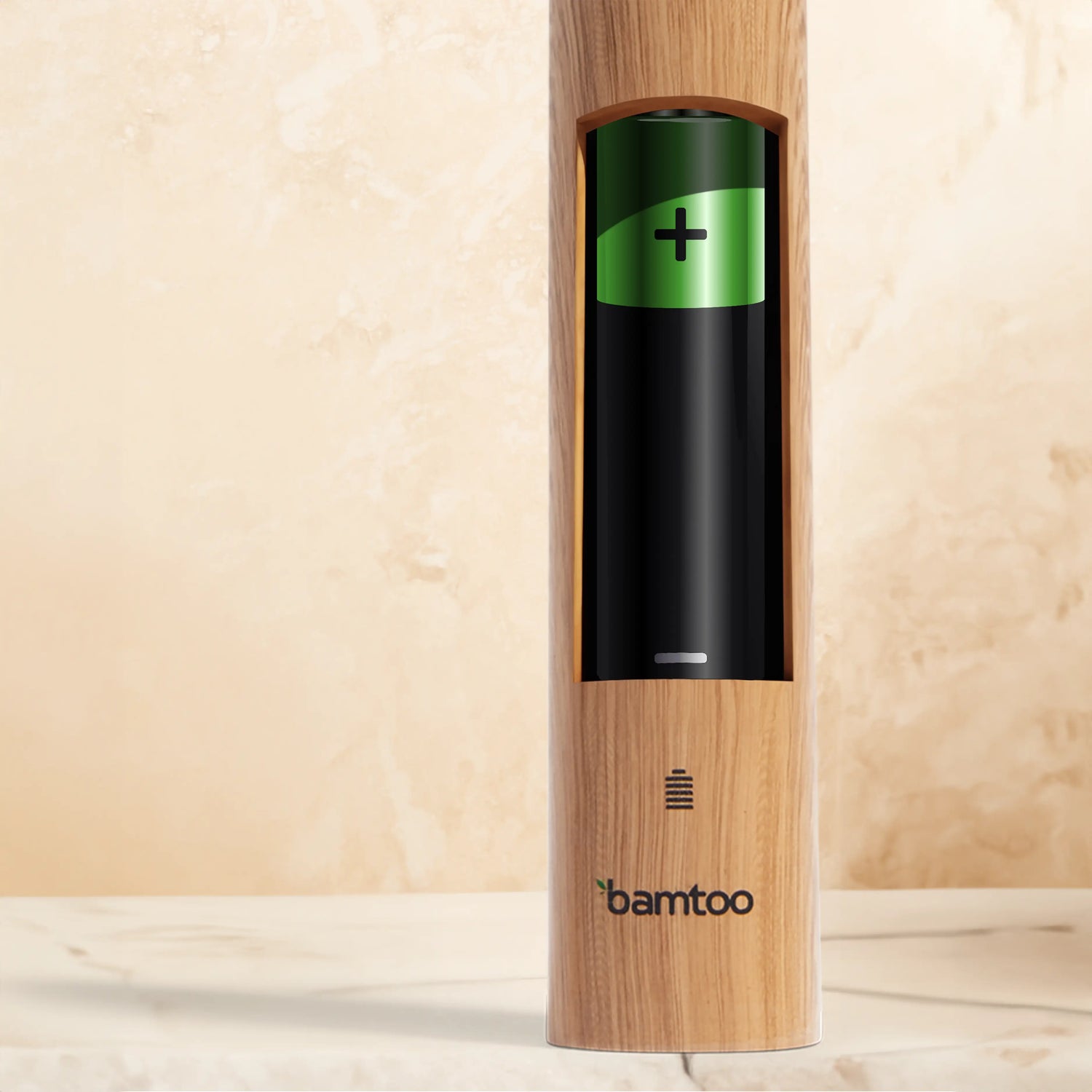 8 weeks cleaning. charge for 2 hours.
Bring your KOA V2 toothbrush to over 8 weeks of battery life in just a few hours via USB-C cable. Significantly faster and more resource-efficient than conventional alternatives.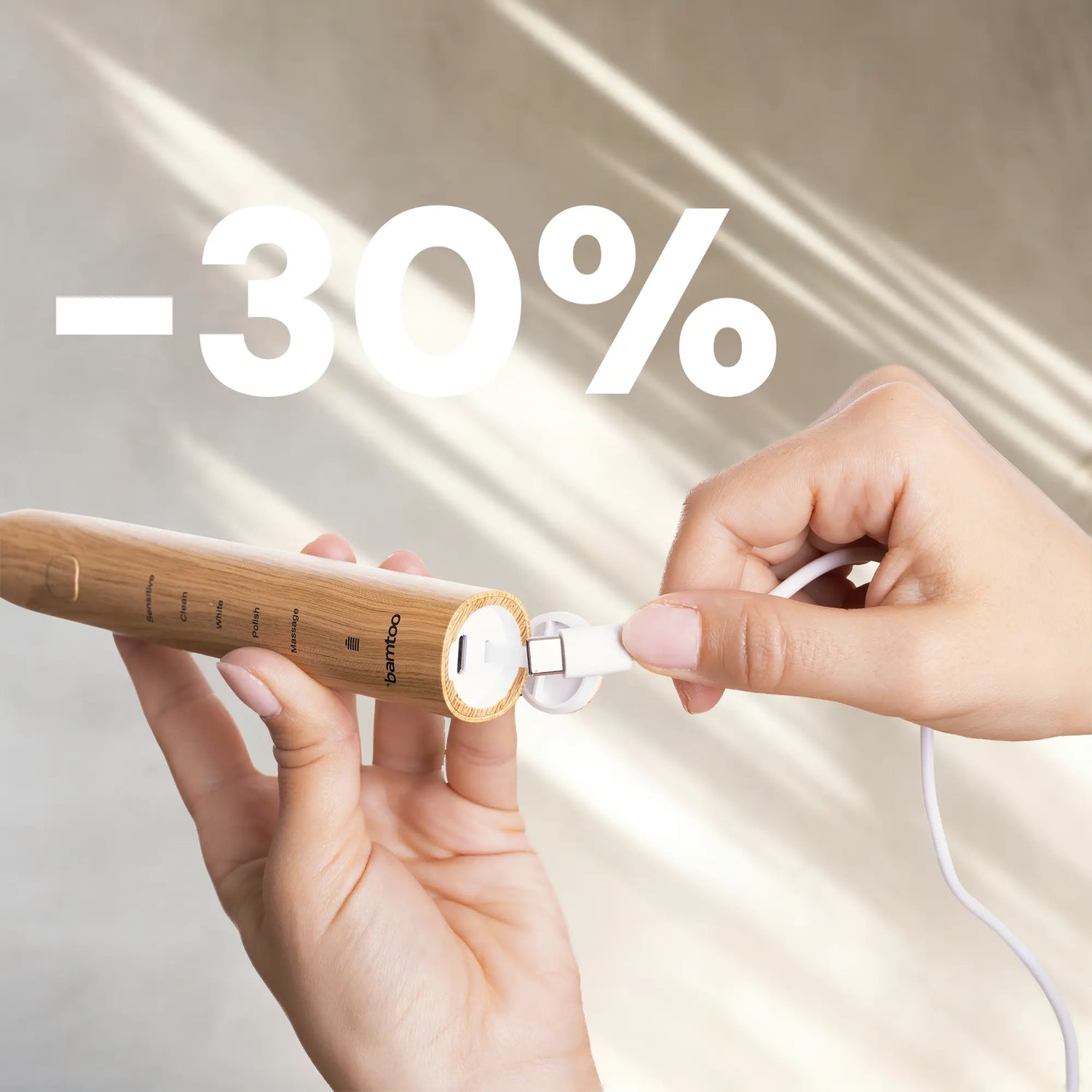 Innovatives Ladekonzept
Innovative charging concept
Inductive charging stations are obsolete. Not only are they dirty and ugly, they also eat up resources. In view of the new EU regulation, we have come up with a new charging concept using a USB-C cable.
Fully charged in just 2 hours
No cable clutter in the bathroom
Saves valuable resources
Was Zahnärzte sagen
KOA V2 can definitely keep up with those of the market leaders when it comes to brushing your teeth. And best of all: you produce much less plastic waste.

Andrea Ritzert, dentist
5-Sterne-Bewertungen insgesamt: 50
4-Sterne-Bewertungen insgesamt: 8
3-Sterne-Bewertungen insgesamt: 2
2-Sterne-Bewertungen insgesamt: 1
1-Sterne-Bewertungen insgesamt: 1
94%
würde(n) dieses Produkt empfehlen
Qualitätsniveau
Bewertet mit 4.8 auf einer Skala von 1 bis 5
Sauberkeitsgefühl
Bewertet mit 4.9 auf einer Skala von 1 bis 5
Lieferzeit
Bewertet mit 1.3 auf einer Skala von minus 2 bis 2
KOA V2 Schallzahnbürste

Nimmt sich nicht viel mit anderen aus der Drogerie. Tolles Etui.

Qualitätsniveau

Bewertet mit 5.0 auf einer Skala von 1 bis 5

Sauberkeitsgefühl

Bewertet mit 4.0 auf einer Skala von 1 bis 5

Lieferzeit

Bewertet mit 0.0 auf einer Skala von minus 2 bis 2

Zufrieden

Die Zahnbürste kam schnell an und putzt auch gut. Die Bürsten sind angenehm

Qualitätsniveau

Bewertet mit 4.0 auf einer Skala von 1 bis 5

Sauberkeitsgefühl

Bewertet mit 4.0 auf einer Skala von 1 bis 5

Lieferzeit

Bewertet mit 0.0 auf einer Skala von minus 2 bis 2

Designerstück mit Power

1+ Putzleistung, 1+ Design, 1+ Nachhaltigkeit

Zugegebenermaßen habe ich diese Zahnbürste Vor allem wegen des wunderschönen Designs gekauft. Mein Badezimmer ist cool eingerichtet und meine alte weiße Standardbürste war wie ein Dorn im Auge. Die KOA v2 überzeugt aber nicht nur um Design, sondern meine Zähne fühlen sich erstaunlicherweise sogar glatter an als mit meiner bisherigen elektrischen. Nach 4 Wochen fällt mir nichts negatives ein!

Qualitätsniveau

Bewertet mit 5.0 auf einer Skala von 1 bis 5

Sauberkeitsgefühl

Bewertet mit 5.0 auf einer Skala von 1 bis 5

Lieferzeit

Bewertet mit 0.0 auf einer Skala von minus 2 bis 2

Kaufempfehlung - Super schöne Zahnbürste 😍

Man erhält hier eine tolle Zahnbürste, die mehr kann als nur gut die Zähne säubern. Das Reiseetui ist auch super schön, aber leider etwas schwer. Ich würde nur einen halben Stern dafür abziehen, aber das geht leider nicht. Ansonsten wurden meine Erwartungen übertroffen ❣️

Qualitätsniveau

Bewertet mit 5.0 auf einer Skala von 1 bis 5

Sauberkeitsgefühl

Bewertet mit 5.0 auf einer Skala von 1 bis 5

Lieferzeit

Bewertet mit 2.0 auf einer Skala von minus 2 bis 2

Top Zahnbürste

Hält was sie verspricht, und noch mehr. Ich hätte nicht erwartet, dass die Aufsätze wirklich so wenig nach Holz schmecken 😅

Qualitätsniveau

Bewertet mit 5.0 auf einer Skala von 1 bis 5

Sauberkeitsgefühl

Bewertet mit 5.0 auf einer Skala von 1 bis 5

Lieferzeit

Bewertet mit 0.0 auf einer Skala von minus 2 bis 2
Rezensionen geladen
Rezensionen hinzugefügt