Bamboo brush heads
Regular price

Sale price

12,90 €
---
A new era of brush heads.
From renewable raw materials
Premium DuPont™ bristles in medium hardness
Wavy profile for clean interdental spaces
Also for sensitive teeth and gums
Auf Lager - in nur 2-4 Tagen bei dir
Kostenloser Versand ab 30€
Kostenlose Retouren
Versand mit DHL GOGREEN
30 Tage Probeputzen*
*gilt nur für elektrische Zahnbürste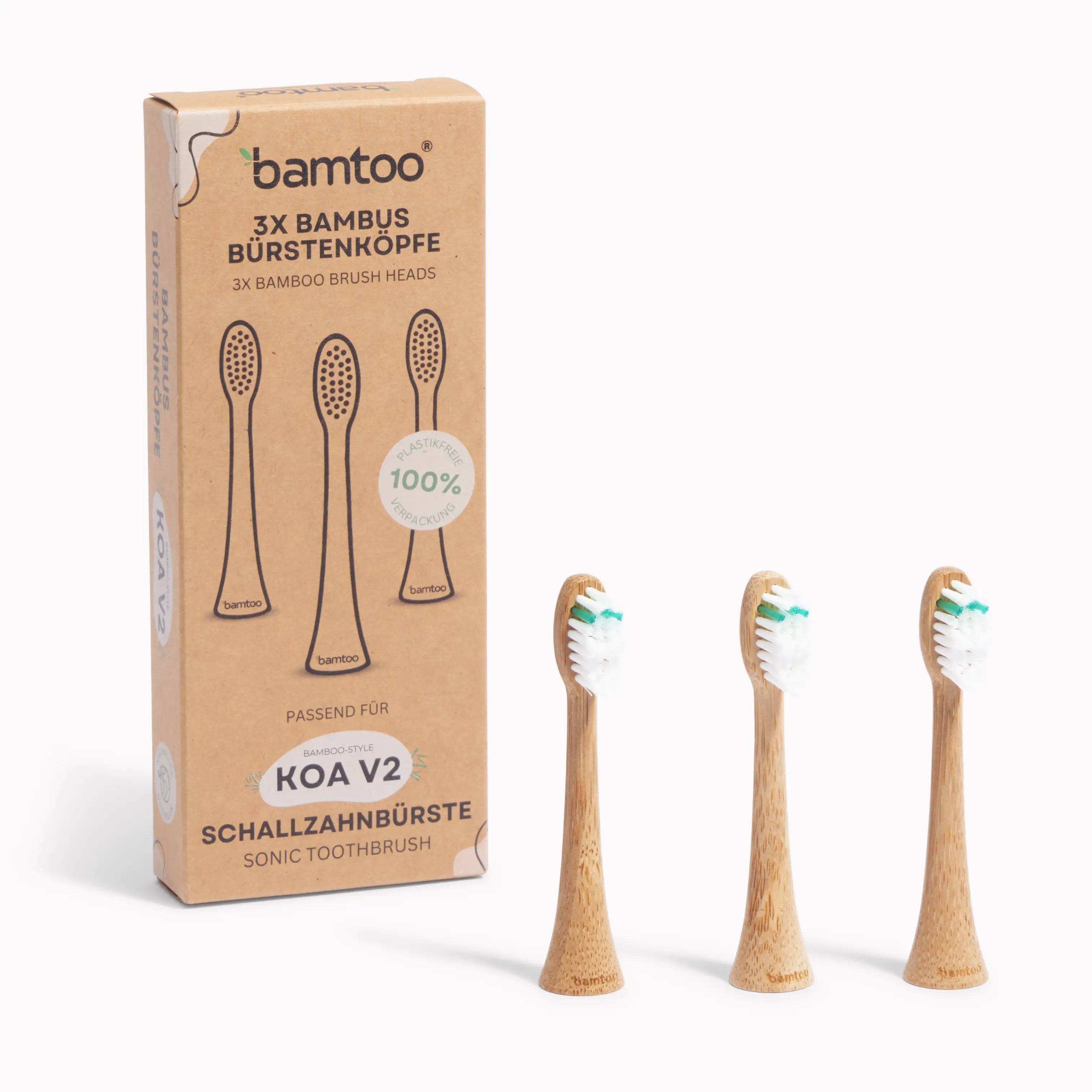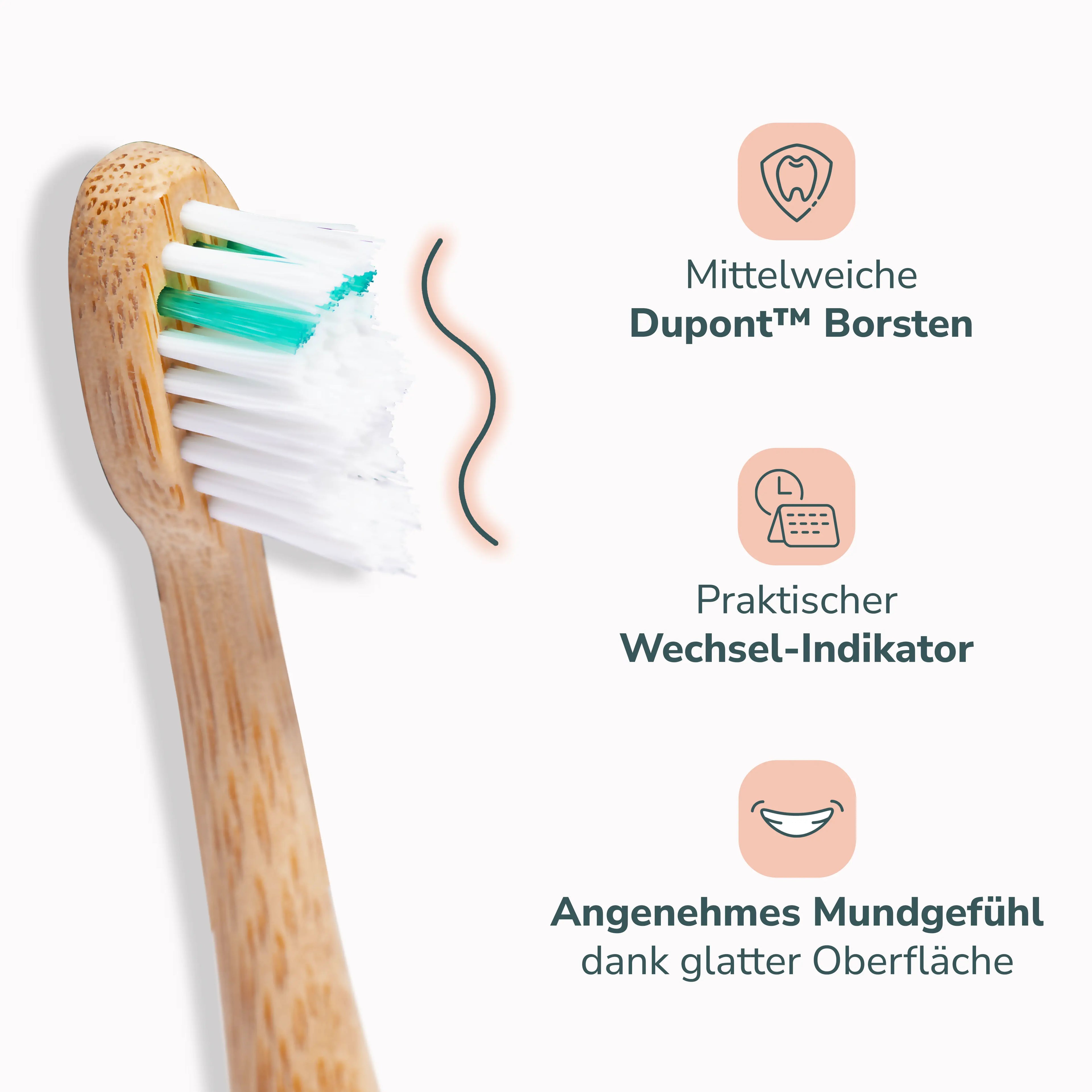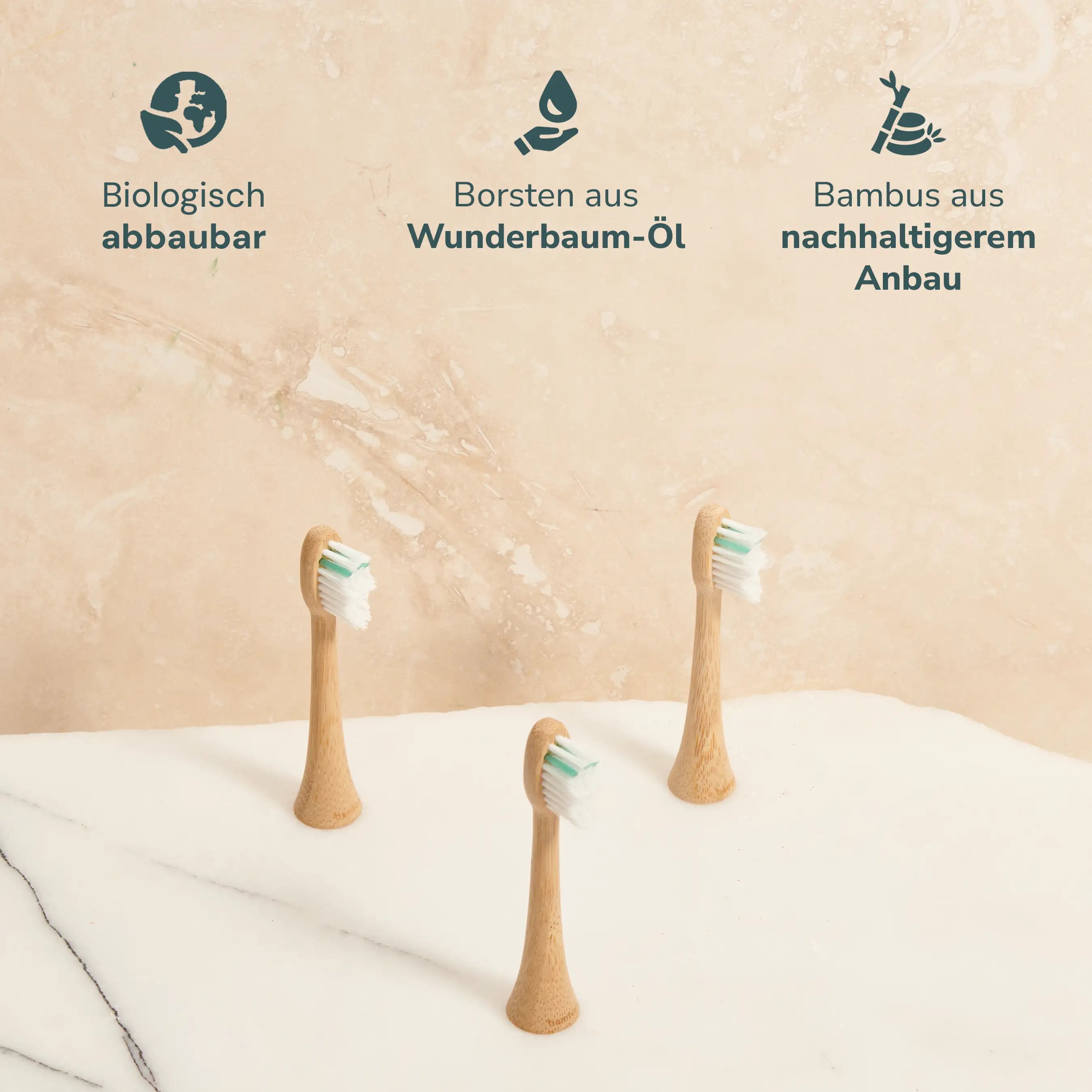 Herbst-Angebot einlösen

Zeit für eine neue Jahreszeit. Zeit für neue Angebote.

So erhältst du 3 zusätzliche Bambus Bürstenköpfe kostenfrei zur KOA V2:


1. Füge die KOA V2 Schallzahnbürste zum Warenkorb hinzu.
2. Füge ein 3er-Pack der bamtoo Aufsätze hinzu.


Der Rabatt wird jetzt an der Kasse abgezogen. Das Angebot gilt nur für kurze Zeit.
scope of delivery

Scope of delivery: 3x bamboo brush head KOA V2 (medium hard)
Frequently Asked Questions

Do the attachments taste like wood?

Through a special process, we grind the attachments and treat the surface. As a result, we have managed to minimize the wood taste. Many customers even find that the tips feel better and more natural than traditional plastic tips.

Are the brush heads compostable?

The brush heads for KOA V2 are made from renewable raw materials and are also biodegradable. However, they are not compostable, as this describes a different process. It is best to find out more from your local authorities before disposing of them in the garbage, as the requirements differ from municipality to municipality.

What level of hardness are the brush heads?

The DuPont™ bristles are medium-hard and are therefore perfect for all needs. Also for sensitive teeth and gums.
Known from


Green Bamboo

We only use bamboo from certified more sustainable cultivation.

Plastic free shipping

Product packaging and shipping materials are 100% plastic-free.

1 item = 1 mangrove

Plant one mangrove tree in Madagascar per item.
premium quality
Some providers take shortcuts to get to their destination just to be able to advertise their products as sustainable. We don't want you to have to compromise. Feel the difference with the high-quality DuPont™ bristles with a pleasantly medium strength and wavy profile. Fights stubborn plaque without damaging sensitive areas.
Sustainable Bamboo
Plastic attachments were yesterday. We rely on biodegradable bamboo and bio-plastic, as well as DuPont™ bristles made from castor oil. You hate wood taste? The high-quality processed surface leaves a pleasantly hygienic feeling in the mouth.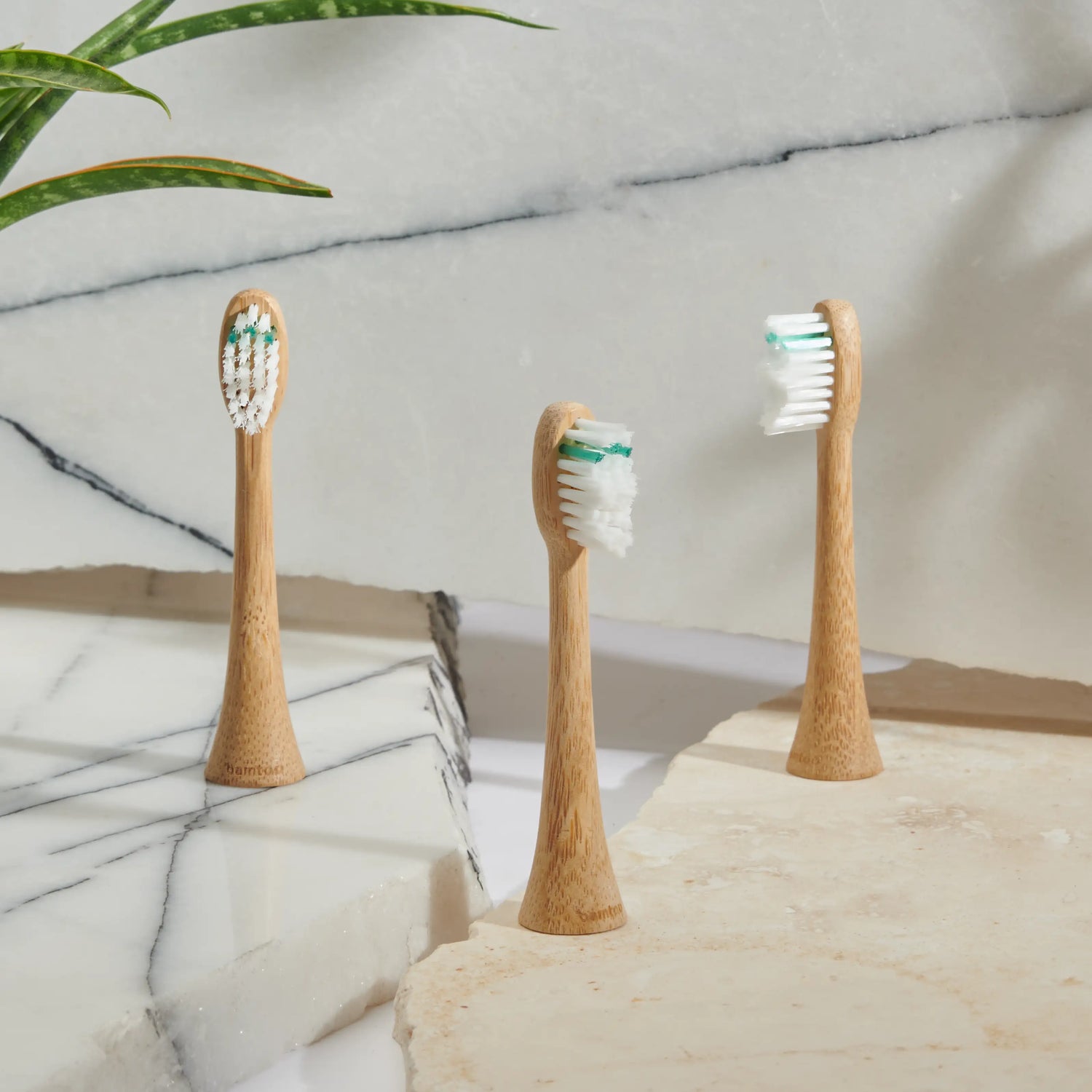 NOW NEW
Also as a saver subscription
How nice would it be to never worry about missing essays again? Dentists recommend changing tips every 2-3 months to avoid bacteria or worn material. Order the monthly cancellable subscription now and save.
5-Sterne-Bewertungen insgesamt: 17
4-Sterne-Bewertungen insgesamt: 3
3-Sterne-Bewertungen insgesamt: 0
2-Sterne-Bewertungen insgesamt: 0
1-Sterne-Bewertungen insgesamt: 0
100%
würde(n) dieses Produkt empfehlen
Qualitätsniveau
Bewertet mit 4.9 auf einer Skala von 1 bis 5
Mundgefühl
Bewertet mit 4.9 auf einer Skala von 1 bis 5
Begeisterung pur

Niemals hätte ich gedacht das ees mal Aufsätze für elektrische Zahnbürsten aus Bambus gibt. Echt mega

Qualitätsniveau

Bewertet mit 5.0 auf einer Skala von 1 bis 5

Mundgefühl

Bewertet mit 5.0 auf einer Skala von 1 bis 5

Hat mich überzeugt

Ich hatte Sorgen das die Aufsätze zu hart oder weich sind für mich aber perfekt.

Qualitätsniveau

Bewertet mit 5.0 auf einer Skala von 1 bis 5

Mundgefühl

Bewertet mit 5.0 auf einer Skala von 1 bis 5

Qualitätsniveau

Bewertet mit 5.0 auf einer Skala von 1 bis 5

Mundgefühl

Bewertet mit 5.0 auf einer Skala von 1 bis 5

Qualitätsniveau

Bewertet mit 5.0 auf einer Skala von 1 bis 5

Mundgefühl

Bewertet mit 5.0 auf einer Skala von 1 bis 5

Aufsätze top, auswahl semi

Gefallen mir gut, nur schade, dass es nur die mittelharten für KOA V2 gibt.

Qualitätsniveau

Bewertet mit 5.0 auf einer Skala von 1 bis 5

Mundgefühl

Bewertet mit 5.0 auf einer Skala von 1 bis 5
Rezensionen geladen
Rezensionen hinzugefügt